Wanna refine your story? Create an elevator pitch
"An alleged scientific discovery has no merit unless it can be explained to a barmaid." Lord Rutherford of Nelson (known as the father of nuclear physics, 1871-1937)
"All physical theories, their mathematical expressions apart ought to lend themselves to so simple a description that even a child could understand them." (Albert Einstein, from the book Einstein, His Life and Times, 1972)
…In other words, if you can't explain it simply, you don't understand it well enough.
When you corner someone and enthuse about your latest writing project, your victim's first question is likely to be, "what's your story about?" Can you explain the plot quickly and easily, in an intriguing way—without confusing them—and can you do it in about thirty seconds?
That's one or two sentences, at most. I've attended week-long workshops on this subject alone (such as the Prince Edward Island Screenwriters' Bootcamp, which culminates in a high-pressure pitch to at least three separate Maritime producers—but that's another story). It's much more difficult than it sounds, especially if aspects of your story are still fuzzy in your own mind.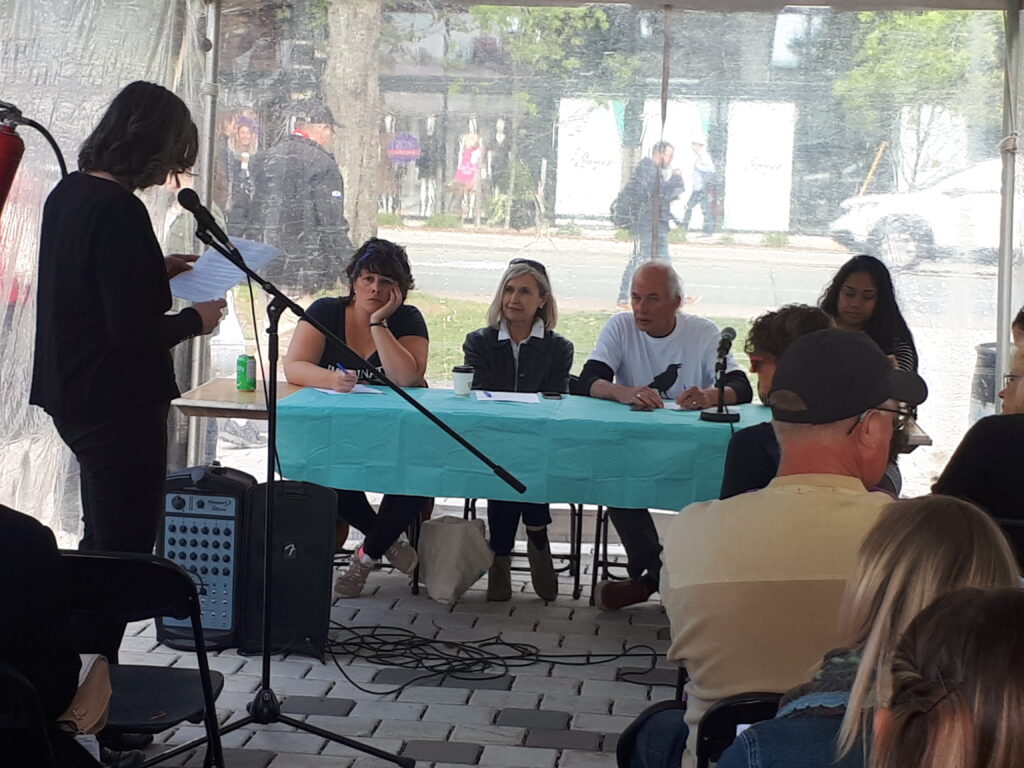 On September 14, 2019, I had the opportunity to try again, this time regarding a novel manuscript I completed earlier this year. Pitch the Publisher is an annual event on the roster of Word on the Street (@wotshalifax) in Halifax, Nova Scotia, and is organized by the Atlantic Publishers Marketing Association. WOTS is a charitable organization whose network of festivals throughout the country make it one of Canada's largest literary celebrations.
With an exhibitor marketplace set up on the grounds of the Halifax Central Library, festival-goers can enjoy a cross-section of the literary scene in Atlantic Canada. The largest publishing houses to the smallest niche magazines are represented: fiction, non-fiction and poetry for all age groups are on display by both publishing houses and independent authors. There are featured authors, poets, storytellers and special guests, all adding up to a great day for people who enjoy books and care about literacy.
Pitch the Publisher is a Dragon's Den-style event, (although the dragons are much nicer) consisting of two panels, one for non-fiction and one for fiction. Writers apply in advance to pitch their project to a panel of three or four Atlantic publishers. If you are approved to appear in the roster, you have two and a half minutes to present your idea. You must encapsulate the plot in an intriguing way for the publishers in a couple of sentences, and you must chase it with the following information: your writing experience and your experience with the topic, what you think the market is, how you would categorize your book idea and comparable titles, word count, and how your book is suited to the publishing programs of the panelists. Then, you must read a short sample, preferably a piece that teases the heart of the story.
Following the pitch, each publisher takes a turn with comments, and they often ask salient questions (they know their industry, and they are very astute) for a following two and a half minutes, and hopefully you will go away with points to improve your pitch, or perhaps even the story itself.
I faced representatives of Nimbus/Vagrant, Goose Lane Editions, Nevermore Press and Indian Ink, and to my delight I was invited to submit my full manuscript to two of them. For any author, to be complimented on the quality of your pitch is a great encouragement, regardless of the outcome. On the writing journey, there are often very long stretches between helpful signposts, and we live for the day when we arrive at one of them. They give you renewed direction and hope for the writing that follows.
Even if you are not currently planning to attend such an event, it is really useful to spend a week or so developing a pitch like this, not only so that others understand your story, but so that you do, as well.